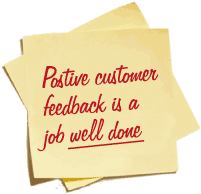 Please send us your feedback and if you get time - we'd love to see a picture.
Click Here to email us your feedback.
Thank You.


Customer feedback is VERY important to us.

It's always great to receive positive feedback from our customers about our products. Below is a selection of our feedback:

Griffith Jones, Kent

"GREAT sticker! Looks sharp, applies easily. LOVE IT!"

Kim R, USA

"This was just what I was looking for."

Jeffrey Catt, London

"The item was exactly as described, and I received it in a very short amount of time. Was a good purchase."

Nathan Fee, Yorkshire

"Very good addition to the stickers on my car."

Mikey S, London

"Great signs, as described, fast delivery, brilliant seller."

Erik Bolten, Cambridgeshire

"Great, exactly as described and delivered in good time. Reccomended."

Neil Rempel, Lincolnshire

"A+ excellent service first class product will use again many thanks ++++."

Darryl Miers, Suffolk

"Excellent prompt delivery. Great quality sticker. Will send pic ASAP."

Christian Lemaire, Yorkshire

"Very nice item, good quality & very speedy delivery. Thank you A*."

Kelly Bolster, Derbyshire

"A very trusted seller. Great product for a great price. Thank you."

Emilia Hibner, Staffordshire

"Quality item, free postage, fast delivery, what more do you want? 20/20!!!"

Jamie Mannion, Northumberland

"Very pleased with the sign. Highly Recommended."

Neil Redfield, Berkshire

"Sign arrived very quickly and was exactly as described, 1st class service."

Darryl Veney, Buckinghamshire

"Fab sign - really pleased with the green colour."

Christian Kasel, Peterborough

"Thank you this was just what we were looking for."