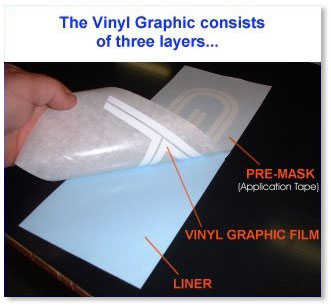 Tools & Materials Needed:
1. Scaple knife or razor blade. (to separate segments of the graphic if necessary).
2. Plastic Squeegee (the edge of a credit card will work just as well).
3. Roll of Masking Tape (2 inch preferable).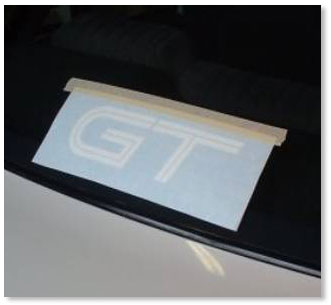 Step 1:
First, lay the graphic face down on a flat surface. Using a squeegee, credit card, or similar item, firmly rub graphic area starting from the center and moving outward. This will insure that the graphic is adhered to the pre-mask.
For small & medium graphics, apply a single horizontal strip of 1"- 2" masking tape to the top of the graphic. The centerline of the tape strip should lie on the edge of the graphic (half the width on each side as shown). The strip will serve as a hinge to insure that the graphic does not move during the application process.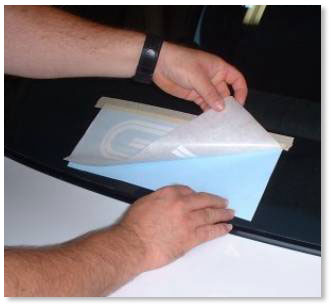 Step 2:
Hold the bottom edge of the hinged graphic away from the target mounting surface and remove the liner to expose the sticky face of the vinyl.
CAUTION! Do not let the exposed graphic TOUCH the target surface. The graphic face is very tacky and will tightly stick to the surface. If the placement is not correct, removing the graphic for repositioning will be very difficult (and maybe impossible) without causing damage to the vinyl.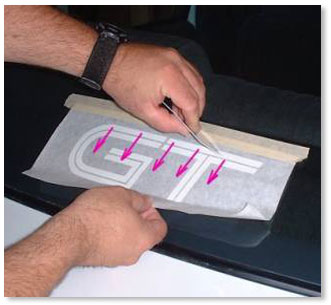 Step 3:
Continue holding the hinged graphic away from the target surface. Using the squeegee, begin the graphic application at the top edge and work toward the bottom. Smooth the graphic down on the target surface with a sweeping motion.
AGAIN - Work from the top to the bottom. Do not let the entire graphic drop onto the target surface. If creases or wrinkles develop, carefully lift and reposition the graphic.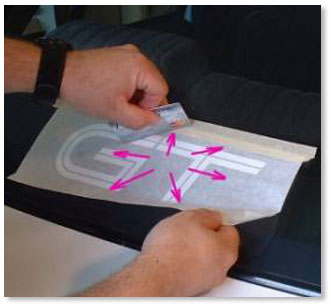 Step 4:
When the graphic is in the correct position and lying perfectly flat, firmly press the graphic down with the squeegee (starting at the center and sweeping outward) to insure that all elements of the graphic adhere to the target surface.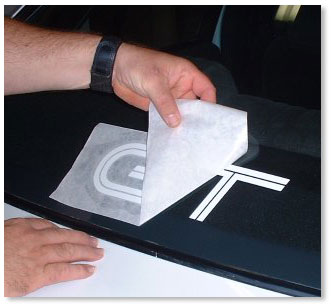 Step 5:
Gently remove the pre-mask. Pull back at a sharp angle to help avoid lifting the graphic along with the pre-mask.